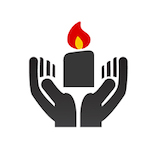 The Need
During the afternoon of July 14, 2022, a devastating fire raged on the grounds of the sanctuary.  Because of strong winds, the fire spread rapidly jumping from one tree to another and eventually to some of the buildings. After long hours of exhaustive work by the heroic crews of the firefighting aircraft  and fire trucks, the fire was brought under control.
But the fire unfortunately caused extensive damage to the roof of our Church; our places of prayer; the olive trees on our premises; and the workers' residence at our pilgrimage site. With the help of aircraft, the fire was eventually extinguished.
In the words of Sister Telesphoro, the director of the sanctuary, we 'witnessed a miracle in the protection of our God."  Fortunately, there were no casualties.
"Any assistance is welcome.  We are in urgent need for your financial support to help us rebuild in the coming year. The rebuilding costs are estimated at US$ 600,000.
"We thank all people of good will that want to help us and he Church of God. After more than two years of COVID and without any income we are really in a very desperate situation. It is urgent that the rebuilding work begins before the rains cause more damage."
Become a Friend of the Beatitudes Church in Galilee
With your kind support for our rebuilding program, you can become a valuable member in our international community for the friends of the Beatitudes Church in Galilee.
You can make a financial contribution directly to our bank account.
A.N.S.M.I
Mount Beatitudes
Account Detail
Name of the Beneficiary:
FRANCISCAN SISTERS Mount of Beatitudes – TIBERIAS (NEZIROT
FRANCISCAN HAR HAOSHER TIBERIAS) . . . . . . . .
Address of the Beneficiary:
FRANCISCAN SISTERS
Mount of Beatitudes – TIBERIAS
South Golan 12365
ISRAEL
SWIFT CODE: BARDILITXXX
___________________________________________________
BANK NAME: MERCANTILE DISCOUNT BANK LTD
BRANCH NAME: NAZARETH MAIN
BIC CODE: BARDILITXXX
CLEARING CODE: IL017639
ACCOUNT NO: 639 104442
IBAN: IL 630176390000001104448
ADDRESS:
MERCANTILE DISCOUNT BANK
GHALIL ST.6000/30
NAZARETH 16000
ISRAEL
In the near future, you will also be able to make a credit card contribution using PayPal.