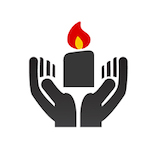 Location of the Mount of Beatitudes
See the Google map showing the Mount of Beatitudes, Capernaum, Tiberias and the Sea of Galilee.
Weather in Galilee
Making Group Reservations for the Guesthouses at the Church of the Beatitudes
Our two guesthouses can accommodate up to 150 pilgrims.
Individual pilgrims are welcome to stay but pay a slight premium compared to the group room rates.
For more information, please contact us at:
Franciscan Sisters Monastery
Mount of the Beatitudes
South Golan 12365, P.O. BOX 2236, TIBERIAS 1412102 – ISRAEL
Email: ospbeat@netvision.net.il     WEBSITE: http://beatitudes.church
Guest House tel +972 4 6711200
Guesthouse fax +972 4 6726735
TO ARRANGE FOR A PLACE FOR PRAYER, PREACHING OR MASS RESERVATIONS,
SEND A FAX  TO:  04 6711225 or PHONE 04 6711223