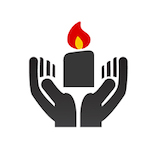 In March 2017, the Church of the Beatitudes was pleased to the visit of Cardinal Stanislaw, the Personal Secretary of Pope St. John Paul II. He left with us a reliquary containing a few drops of blood from the late Pope.
Later in the year, in December, we welcomed Cardinal Leonardo Sandri, the Prefect for the Congregation of Oriental Churches. His visit coincided with the 800th anniversary of the Franciscan presence in the Holy Land.
Also, in May 2017, we were pleased to welcome the Altensteiger Vokalensemble from Altensteig in the Black Forest region of Germany. The choirmaster was Wolfgang Weible, the organist was Susanne Schuler-Meybier and the flutist was Elisabeth Rauser.
Join us here in our celebrations of these special occasions.